Atlanta Spartan Sprint Race Day!
Depending on the weather, we prefer to have a start time around 12:30pm. Of course we don't want to cook ourselves like we nearly did that last month at the Phoenix Sprint. The older I get, the more time I need to warm up and neither one of us really like to rush around in the morning. Spartan races are great like that… you get to choose a time to start versus only having a morning option.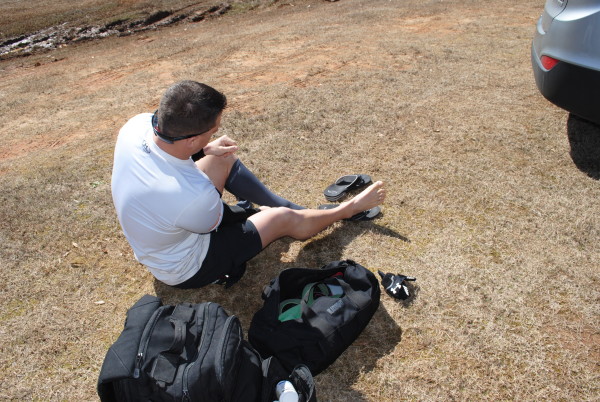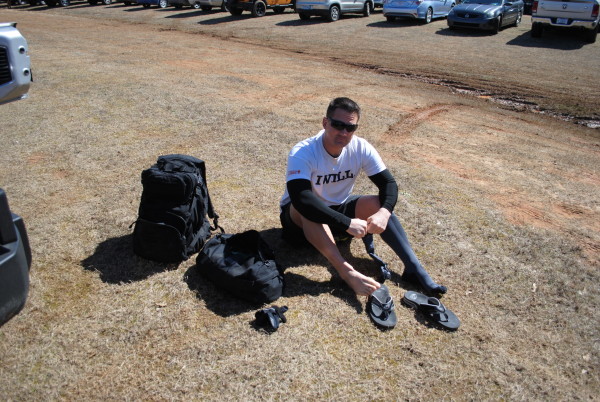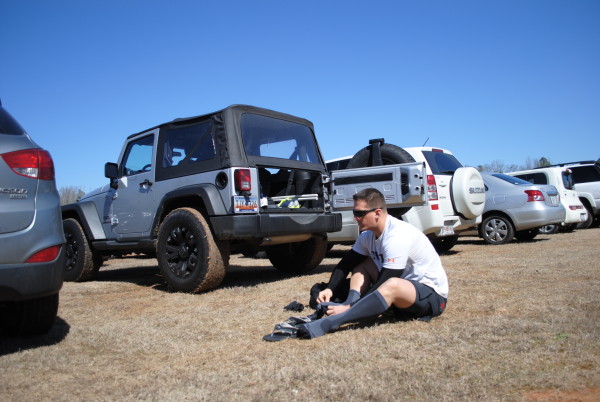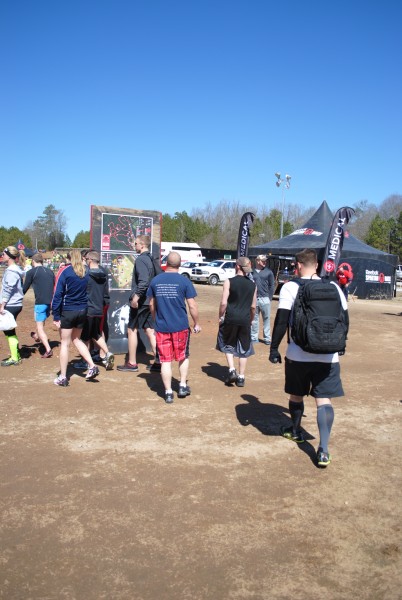 Race Course
The funny thing about Spartan races is they really like to mess with the participants by hiding obstacles in the woods, mis-marking the mile markers on the course, and throwing in a memorization obstacle.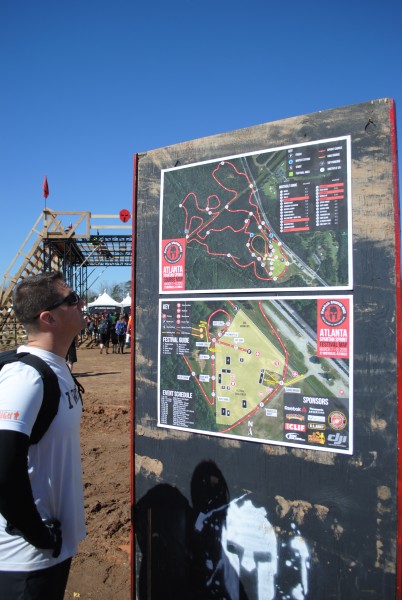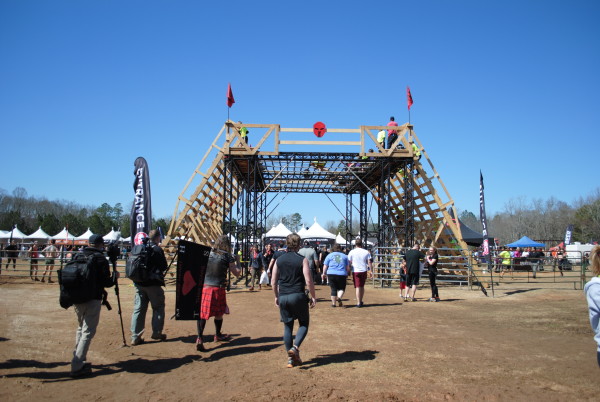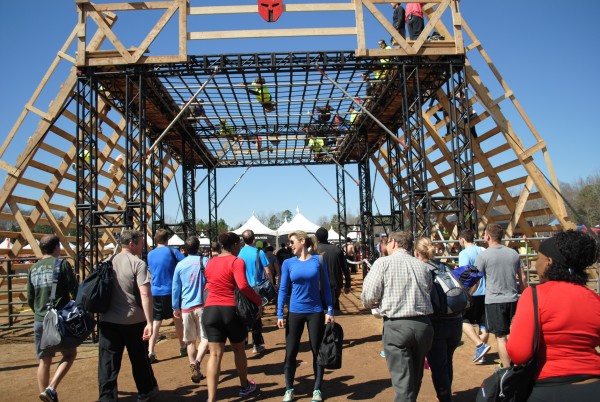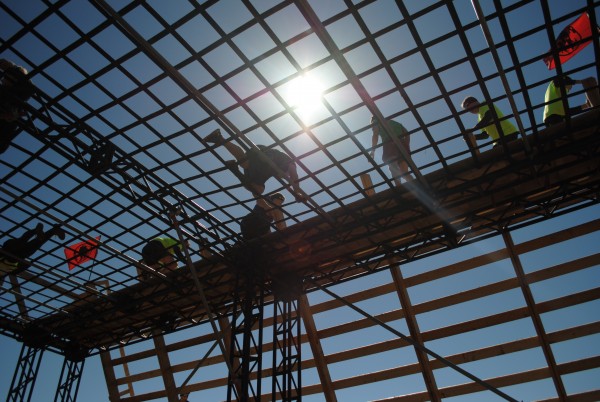 Pre-Race always looks so much cleaner than post-race! Who knew getting all muddy could be so fun?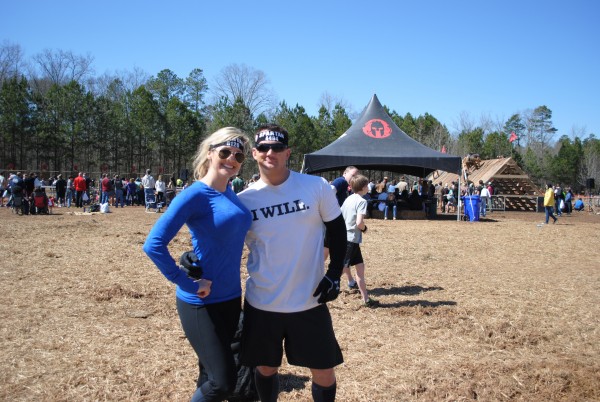 Don't forget to stretch!
We both need about 2 miles to feel completely warmed up so we do some dynamic warm-up exercises such as leg swings, inchworms, and mountain jumper stretches along with the pictured stretches with bands.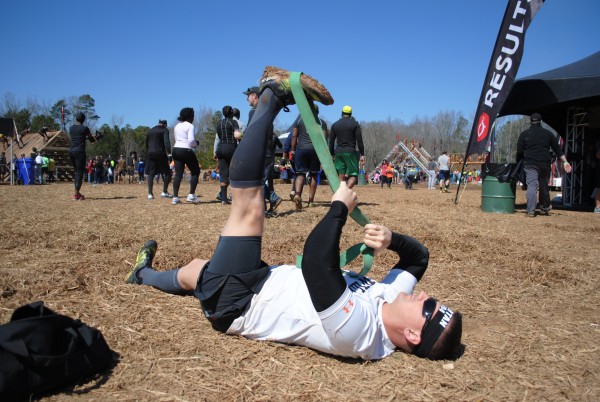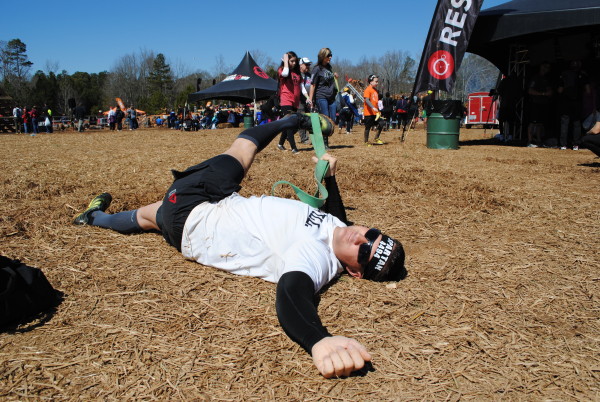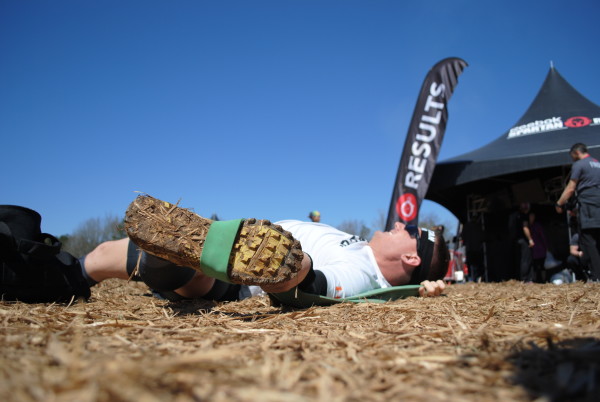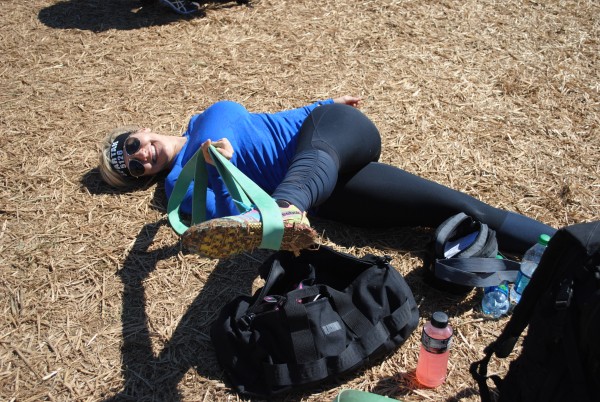 Race Nutrition
A word of advice: don't try something new on race day. Always experiment with your nutrition during a training run versus taking a chance on race day.
Our race day routine looks like this:
Breakfast – bacon, eggs, avocado, coffee, and plenty of water.
Pre-Race – Isagenix IsaLean Shake or IsaLean Pro Shake and Replenish
During Race – We don't need to refuel during these sprint distance races, but for the Super and Beast distances, we have a different protocol to make sure we an make the distance.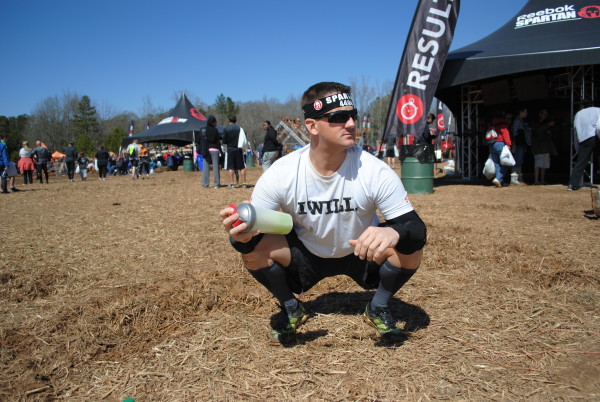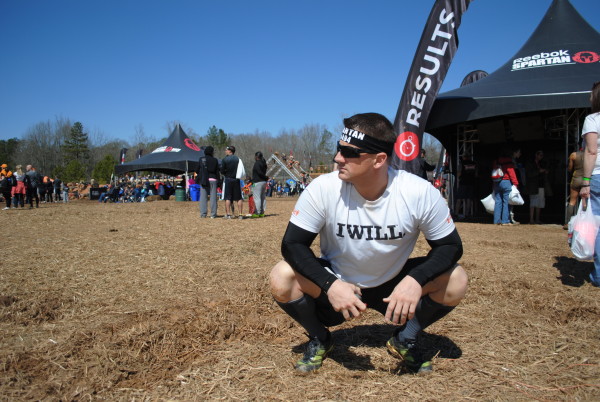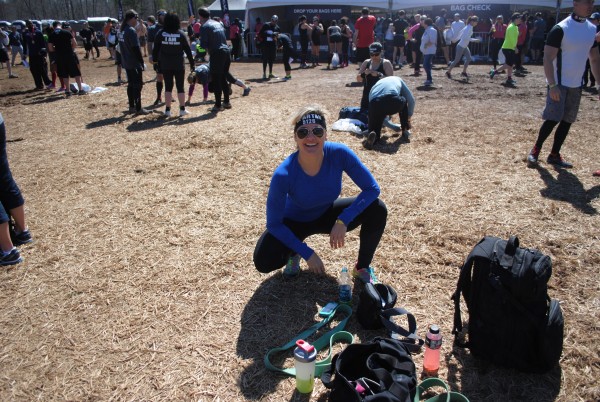 Post-Race muddy mess!
The clean-up is always a challenge but we are getting better and better at the whole process. Just a few tips include:
Bring trash bags for your wet and muddy clothes.
Pack at least 1 large towel per racer.
Rinsing off in the shower area can be chilly. Bring loose, warm clothes. Even for the races in warm weather, opt for loose clothes (you will see me struggling with yoga pants below while Stephen easily slipped into his baggy sweats).
Don't forget to bring flip flops!
Oh and rinse your clothes as much as possible before putting them into your washer so you don't end up with a clogged washer drain.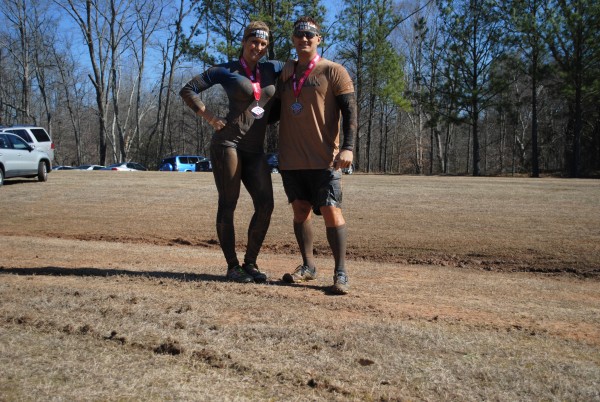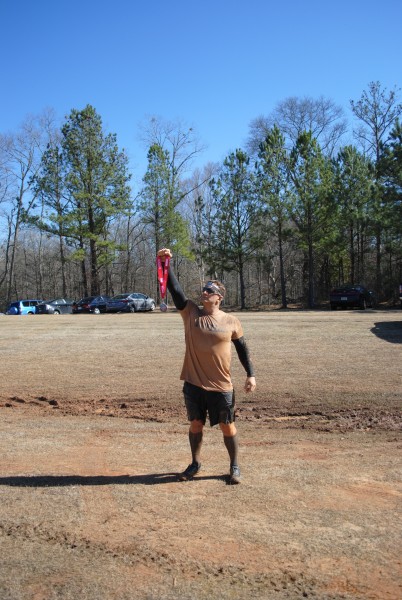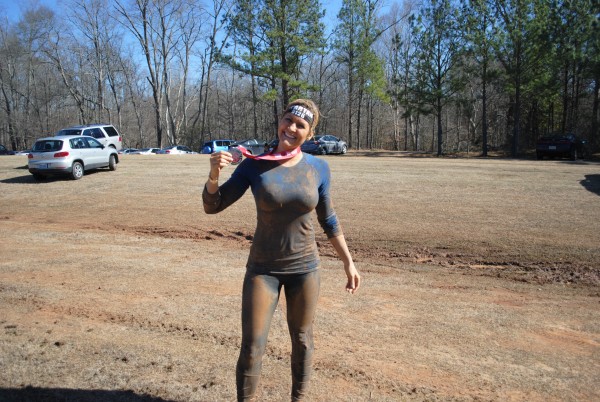 There is always time and energy for a hand stand!




Whoa! I can't wait to see this placement but knew I didn't earn 1st place…
My start time was the same as Stephen's but my chip started 26 minutes late. We had the results tent staff correct the error and I ended up 28th in my age group. This is great motivation to train seriously for future races.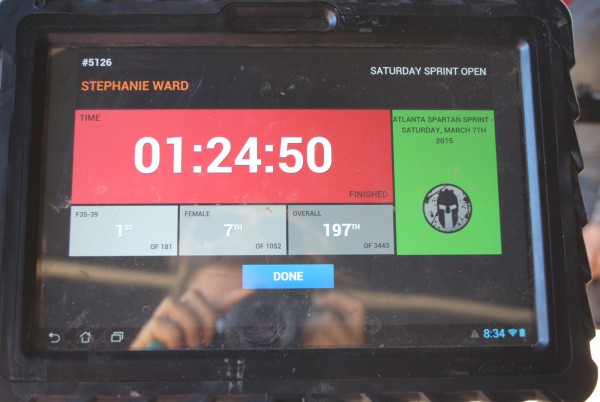 And… Stephen's profile came up as FEMALE so they corrected that for us too. Definitely a dude!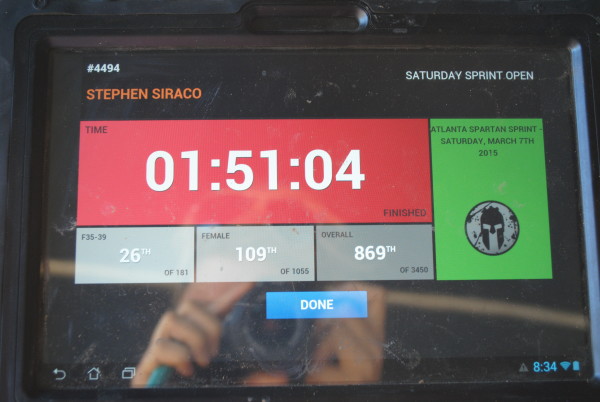 Our actual times and rankings.
I like to figure out my percentages by using the placements by taking my place and dividing it by the total number. For example, 28th out of 261 translates into being in the top 10% of my age group. This gives me a better measure of my success when comparing my races since each course is different. This isn't like back in the day when I was running 5Ks, 10Ks, Half-Marathons, etc.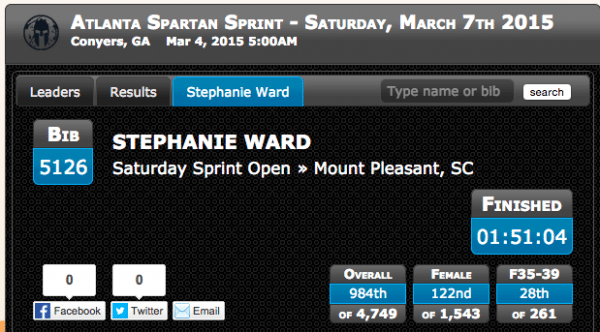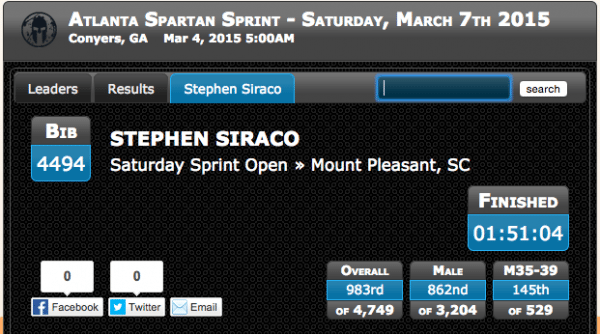 After the races there is a place where you can donate your shoes if you just decided to wear an old pair of running shoes. They will be cleaned up and made available to those in need of shoes. We have opted for the following racing shoes:
Reebok Men's All Terrain Super Running Shoe

Reebok All Terrain Super Womens Running Shoe

Salomon Men's Speedcross 3 Trail Running Shoe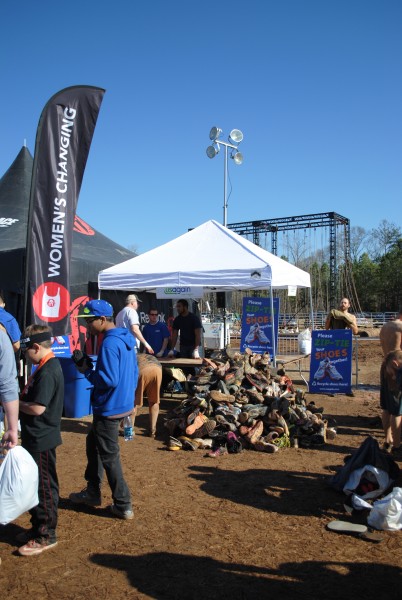 Our before and after.
They made sure we got extra muddy towards the end! If you are looking for a fun way to spend time with those you love, give a Spartan Race a try! There are so many opportunities for team work and couples that play together stay together.